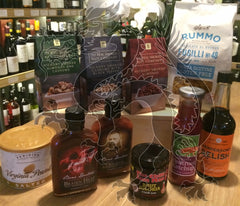 What will 2016 bring? February often witnesses many new year resolutions forgotten about, given up on; dreams of being or doing something different swept under the carpet. And quite right too! It's a cruel tradition forcing us to think of something to resolve from the first day of the year.
The Chinese New Year sees 16 days of celebrations from cleaning the house, giving away 'lucky money' to watching firework displays and dragon dances: no pressure to think of something profound. In the month of February the Chinese announce an animal to represent the year, this continues on a 12 year cycle. Not so widely known but they also appoint an element every 5 years. So what is the 2016 animal? It's the monkey; not just any monkey, it's the year of the fire monkey! Blimey, this really does conjure up some images!
At W&W we don't just make a resolution once a year to improve, but we're constantly striving to introduce taste sensations from all over the globe. Here's what's new in store:
* Feredies Extra Large Salted Virginia Peanuts from the USA
* The Real Smoked Nut Company's Hickory Smoked Almonds & Cashews, Hickory Smoked Cashews with Black Pepper and Hickory Smoked Almonds from Cheshire
* Bone Doctor's Original BBQ Sauce and Brazen Heat BBQ Sauce from the USA
* Foraging Fox's Beetroot Ketchup from
* Henderson's Relish from Sheffield
* The Chilli Jam Man's Bhut Jolokia Chilli Jam from Yorkshire
* Villa Reale Pasta Sauces, imported by us from Italy!
We'll also be adding some new exciting wines to the shelves over the next few months, we'll keep you posted!
We think the fire monkey would approve, don't you?
Mandi