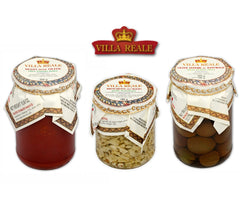 This weeks tasting hour will be dedicated to our fabulous new Italian range from Villa Reale!
We had Villa Reale pasta sauces when we first opened and fell in love with them. Unfortunately we lost our UK supplier so they haven't been on the shelves for quite a while. During a trip to Italy last year we rediscovered Villa Reale in a little deli in the backstreets of Venice, and found that they make a lot more than pasta sauces. After trying some of their other wonderful products we decided there was nothing else for it, we would have to import them ourselves! Our first delivery from Italy arrived this week so we thought we should get them straight out for you to try!
For more than 26 years Campo d'Oro, the makers of Villa Reale, has been producing a vast range of gastronomic products, keeping alive a family tradition that is committed to producing highest quality Italian foods. We think their pasta sauces are simply the best you can get, nothing like most of what you will find on supermarket shelves in the UK. Simple ingredients, perfectly combined to make authentic and delicious sauces and pestos. Our absolute favourite is their Sugo del Sole (Sunshine Sauce). This spicy pasta sauce makes a delicious bolognese, with just the right amount of heat. If you're looking for something more unusual you can try their sauce with squid ink (beautifully black in the jar!) or their pistachio pesto (great with shrimp).
In addition to their pasta sauces we have also brought in some of their gorgeous Sicilian olives and bruschetta toppings. These are all packed with flavours and make perfect appetisers. What could be more simply and delicious than Sicilian bruschetta on fresh toasted bread? We will be adding to our range from Villa Reale over the next few months so keep an eye on the shelves! In the meantime take a look online to see our full range.
See you Saturday for tasting hour, 11 till 12!
Joe