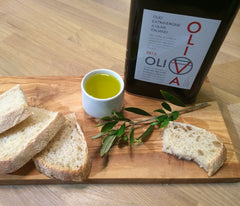 This Saturday we'll be tasting one of our favourite things - Vinochisti Extra Virgin Olive Oil from Tuscany.
We discovered this olive oil by happy accident at a wine tasting in Manchester. Tim Manning, the producer, is an English winemaker based in Italy. A former employee of Oddbins (like Graham, our very own wine expert) Tims great love of Italian wines led him to Tuscany, first as a grape picker, then as an apprentice, then a fledgling winemaker. After spending time away from Italy learning more about winemaking in New Zealand and the US Tim returned to Tuscany and eventually founded Vinochisti in 2006. The ideology of Vinochisti is to cultivate and promote some of the many indigenous varietals of Italy that have slipped into obscurity. With the name Vinochisti originating from 'Vino-Anarchos', meaning 'wine without rulers', it works outside of the control of a consorzio, and concentrates solely on the quality of the wines. Vinochisti currently produce two wines, the Sagrantino and the Erbaluce, both of which are available at Whitmore & White.
Anyway, I digress, we are talking about olive oil not wine this week! In addition to their wines, Vinochisti also produces a fabulous extra virgin olive oil. Very low production, hand bottled and labelled, we think this olive oil is absolutely out of this world. With wonderful green grass flavours, and a distinct pepperiness, we love this olive oil simply on it's own with good crusty bread. Due to a very poor olive harvest no olive oil was produced at Vinochisti last year, we've been waiting over a year for more to be produced so we're thrilled to have it back on the shelves and online!
Come on down to Heswall or Frodsham this Saturday from 11 to 12 to taste Vinochisti Extra Virgin Olive Oil for yourself. We import this olive oil direct from Tim in Tuscany and we only get a limited supply each year - get it while you can!
See you soon
Joe