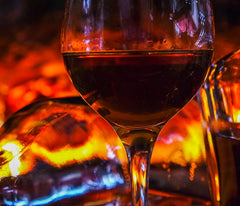 Winter. Brrr. 2016 is running away with us already, but before it does, let's just savour for a moment this icy, crisp, cold winter season. The beautiful frosts lying gentle as the breath of an angel over the meadows and the ice glistening ethereal on the curled up shivering ends of every finger as you desperately try to scrape your windscreen with a points card. Who are we kidding? Get us to a fire and a glass of wine, pronto! It's flipping freezing! So what wines will we be drinking to help keep the chill out? Below is a selection of six of our best winter warmers to put a rosy glow on your cheeks.
Casa Silva "Angostura" Chardonnay
Let's start with a white. "A white!?" I hear you cry. "In winter? Surely that's not a warming wine?". Well, this one is, I can assure you. It's a full-bodied Chilean Chardonnay, with buttery oak and gallons of tropical fruit notes. Devilishly delicious and great with roast chicken.
Weltevrede "Cigarbox" Shiraz
This is a wine that does exactly what it says on the tin (well, bottle to be precise). It's a rich and ripe South African red wine, with toasty oak and notes of, yes, you guessed it, cigar boxes. Perfect with a big hearty beef casserole or vegetarian chilli.
Vinaceous "Raconteur" Cabernet Sauvignon
Winters wouldn't be complete without a big Aussie red. This one is from Western Australia and more specifically Margaret River. The wine is lushly ripe with blackcurrant, chocolate and mint notes. Try this one with shoulder of lamb or aubergines cooked in a simple ragu sauce.
Cien-y-Pico Doble Pasta Tintorera
A bit of a mouthful, in more ways than one. All you need to know about this fantastic Southern Spanish red is that it is made using grapes harvested from 100 year-old Garnacha (Grenache) vines and it if you are a Chateauneuf-du-Pape person, then this is right up your street, but at half the price. Full bodied with notes of black fruit and wild herbs. Perfect with hearty sausage dishes.
The Predator Old Vines Zinfandel
Back by popular demand, we thought this wine had been and gone, but thankfully its UK distributor saved it from a vinous wasteland and we now have it back in store to the grateful cheers of its growing band of supporters. The epitome of smooth and smoky, this is an absolutely perfect wine to have with a big, juicy ribeye steak.
Zenato "Ripassa" Valpolicella Ripasso Superiore
A huge Italian wine. It is the closest I think we will ever get a Ripasso wine being to its big brother, the Amarone. Rich, ripe and succulent with heart-warming black cherry and redcurrant fruit, smooth tannins and an almost infinitesimal finish. This needs a rich cheese, such as mature Cheddar or Parmiggiano Reggiano. Until next time, drink well but drink responsibly (and buy yourself an ice scraper for goodness sake!) Graham Simpson Wine & Spirits Buyer, Whitmore & White