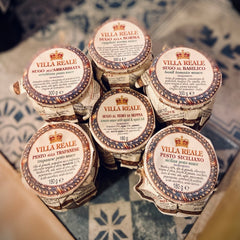 Who says the kitchens of the North West and beyond can't be transformed into classic ristorantes? Not us, that's for sure!
When Whitmore & White was a mere twinkle in our eyes, our mission was clear, to seek out the best food and drink. And one of the first products we fell in love with was Villa Reale's pasta sauce. It's no surprise that it's just as popular now as it was when we first opened our doors.
IMPORTED BY US FROM SICILY
We import these sauces ourselves directly from Italy and are one of the only stockists in the UK. We tried them whilst in Italy and simply had to have them, so found a way to get them here!
Obviously, the taste of the sauces has a lot to do with why we are so passionate about the brand, but we also love that Villa Reale have the utmost respect for the season's rhythms and harvests. Their knowledge of the land and the products that they use is second to none, and their respectful family values elevate the quality of everything that they produce. Nothing strange goes into these sauces, unlike the sugary tomato confections on offer generally in supermarkets. These are the real deal.
SIMPLE AND VERSATILE
You'll be thanking us next time you hear the words, 'what's for dinner tonight?' All you need is a few jars of Villa Reale in your cupboard along with some pasta and a block of parmesan in your fridge and you'll be creating authentic Italian meals without breaking a sweat.
THE RANGE OF VILLA REALE SAUCES
There's absolutely no right or wrong way to use these sauces. Simply coating your favourite pasta with the sauce and eating your hearty fare out of a bowl is just one way. You can use them in lasagne, bolognaise, risotto or spooned over gnocchi or ravioli. In fact anything you fancy - Villa Reale have done all the hard work so you can be as creative as you like.
Which one sparks your cooking innovation?
Villa Reale Sugo del Sole – Arrabiata Pasta Sauce
Villa Reale Sugo Mediterraneo – Mediterranean Pasta Sauce with Basil
 Villa Reale Sugo alle Olive – Tomato Sauce with Olives
Villa Reale Sugo al Caperi – Tomato Sauce with Capers
Villa Reale Sugo alla Norma – Tomato Sauce with Aubergine
Ville Reale Sugo alla Bottarga – Tomato Sauce with Anchovy and Botargo
Villa Reale Sugo al Nero di Seppia – Pasta Sauce with Squid Ink
Villa Reale Sugo ai Pereroni – Tomato Sauce with Peppers
Perfect pairings
We've an amazing pasta selection from Morelli and Rummo to help you conjure up something quite spectacular. And to wash it all down, we recommend this very drinkable Sicilian red, Donnafugata Sherazade.