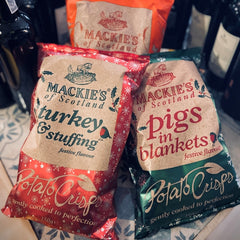 Allow us to ease you into Christmas with the gentlest of nudges with these festive snacks. Mackies potato crisps are not only brimming with merriment, but they also indulge you with the flavours of Christmas in a bag.
And with news of a possible turkey shortage this year, this could be a tasty solution to get you that turkey dinner fix.
WHY WE LOVE MACKIES
Simply put, they don't disappoint. Mackies crisps have the power to elevate any occasion when only a bag of the best will do. These Turkey and Stuffing and Pigs In Blanket crisps really are the perfect companion for a festive box set binge and a Christmas film.
THEY PLOUGH IT, THEY PICK IT, THEY PERFECT IT, AND THEY PACK IT!
Every crisp that ends up in a Mackies' bag, started its life as a humble naturally grown potato in a Perthshire farm's field. From here the expert potato producers carefully manage every aspect of its creation from plough to pack.
The potato farmers who introduced their gastronomic delights to the world remain committed to their family values and heritage. It's so important to them that they oversee the entire process and for the crisps to be cooked gently in high oleic sunflower oil to give them an unrivalled taste.
Plus, this oil, which is high in unsaturated fat, low in saturated fat and has no trans fat is a much healthier option. If you're interested, you may like to learn that the monounsaturated fat in high oleic oil has been shown to lower bad cholesterol.
CRISPS AREN'T JUST FOR CHRISTMAS
Heck no, high quality crisps are for every season. Thankfully, we also stock more flavours, check these out:
Mackies Mature Cheddar & Onion
GREAT FOR A HAMPER TOO!
If you fancy putting together a festive hamper for your friends and family this Christmas, or want to say a huge thank you to your work colleagues, check out this guide on how to Create Your Own Perfect Hamper.