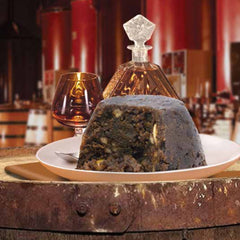 If you're going to make your own Christmas pudding this year, hopefully you've already bought the copious amount of ingredients that you're going to need. And with only a few weeks left until the big day you really need to be getting a wriggle on. The best recipes require you to make the pudding around 6 weeks before eating to allow the nutty, fruity flavours to intensify.
Or you could always buy one. Pass it off as your own if you like, we don't judge here.
MAKE IT YOUR TRADITION
We just love the Cole's Classic Christmas Pudding. It's wrapped in a traditional cotton bag for complete authenticity, and it's got ale in it.
Obviously, it's got more than premium ale in it, you'll also find stacks of festive fruitiness. We'd love to tell you exactly what's in it, but they've been keeping their recipe a secret for over 80 years. What we do know, is that the ingredients that Cole's use results in a beautifully rich pudding, an unrivalled depth of flavour and a surprisingly light and moreish texture.
Choose from a mini 227g or a traditional 454g size.
A FAMILY BAKERY SINCE 1939
The Christmas pudding is hand mixed by expert pudding makers in their Essex based kitchen and baked for up to 8 hours while being steamed to guarantee that it stays as moist and fresh as can be. They have always operated on a small batch system and never mass product any of their puddings. Once the puddings are made, they have to pass a vigorous quality check before being delivered to their trusted specialist retailers.
BRANDY OR RUM?
Now that's the pudding sorted, there's just one more decision to make. Rum or brandy sauce?
While you're here, check out our selection of rum and brandy. Well, it is Christmas!
WHAT ABOUT MAKING A CHRISTMAS HAMPER?
No problem, you can build your own hamper and fill it with your favourites. Have a read of our guide on how to Create Your Own Perfect Hamper and organise your Christmas shopping from the comfort of your own home.