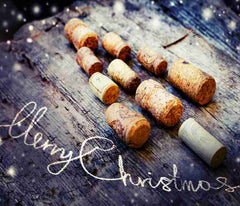 Ahhh, there's that crisp smell of winter in the air, then BANG! Christmas is here and you're tail-spinning into some awful supermarket wine deal! Resist! We've got you covered! Here are six Christmas Crackers to enjoy either on the day, or indeed at any time (or for some of you, all the time!) over the festive period.
Vilarnau Cava Rose
What better way to start Christmas Day than with a glass of pink fizz with breakfast? Great with a good old English fry-up, this is a fantastic Cava from Spain. With a funky Gaudi€"inspired bottle design, this is a fun and vibrant sparkling wine and a great way to kick off the festivities.
Whitmore Gin
Whitmore Gin
Time for a shameless plug! So you've been prepping the food all afternoon and you need something to have just before you all sit down for dinner. Try a gin and tonic with our very own Whitmore Gin. Our blend of jasmine, pink grapefruit and cubeb pepper with a hint of juniper really makes for a great G+T and the perfect apéritif.
St Veran, Le Moulin du Pont
This is a fantastic white Burgundy from vineyards around the village of St Veran in the south of the region. The wine is barrel fermented and as such is rich and rounded, with a toasty character combining with honey, lemon and barley sugar. A full bodied white wine which will match very well with turkey or goose.
Mitolo Jester Cabernet Sauvignon
This is the personification of a smooth red wine. A selection of the grapes have undergone drying before the fermentation. This concentrates the grape sugars and makes for a rich, rounded and supple style of red. It's full bodied but not overpoweringly so. This makes it more of a match for the darker turkey or goose meat and perfect if you are having beef or lamb instead.
Zenato Ripassa
Zenato "Ripassa" Valpolicella Ripasso
Similar in style to the Mitolo Cabernet Sauvignon, but richer, deeper, more complex. This Italian red wine has multiple layers of fruit, oak, tannins and balanced acidity. Whilst this will go very well with the dark meat of turkey or goose, it will be better with beef or lamb and is absolutely perfect with a hard- Cheddar-like cheeses after dinner.
Quinta do Noval 10yo Tawny Port
Christmas is the time of year when sales of Port go through the roof. From White Port through Ruby Port and Late Bottled Vintage Port to proper Vintage Port, any would be good enough to grace the dinner table. I've gone for a 10 year old Tawny Port though, which as a style is like liquid Christmas cake - figs, dates, prunes, orange zest, walnuts. Chill this down and just savour the majesty. So there you have em! Six terrific Christmas wines to toast you nicely through the festivities. Until next time, Merry Christmas! Graham