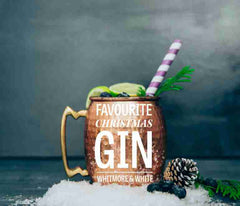 Gingle bells, Gingle Bells, Gingle all the way! Gin is as popular as it's ever been, and no doubt will top the Christmas lists of many of your relatives. Fear not if you know nothing about the stuff, Whitmore & White are here to offer your bags of ginspiration with our top gin picks for Christmas gin!
Our Very Own Whitmore Gin
The Connoisseurs Choice - Whitmore Gin
We'll start close to home! An elegant and charming gin, the nose offers a tantalising teaser of the beautiful palate to come. Subtle jasmine is blended in perfect harmony with grapefruit, all backed up with black pepper and juniper. The palate is beautifully balanced, the citrus influence comes first offering tangy notes, complimented by the fragrance of juniper, the finish has a peppery bite encompassed by the all-important juniper. This gin is perfect served in a classic G&T garnish with lemon rind and black pepper. For the more adventurous out there, it also makes a superb dry Gin martini, served stirred with a twist.
The Flavour Seeker's Choice - Tarquin's Mulled Cranberry & Tangerine Gin
Tarquin's is already a firm favourite here at Whitmore & White. His Cornish dry Gin and Navy Strength Sea Dog are already awarding winning, but Tarquin has out done himself with this limited edition seasonal special. The nose is still dominated by juniper, but the background is a complex blend of Christmas spice, berry fruit and orange. On the palate it is the Christmas spice that is front and centre, cinnamon and cloves dance across your palate leading to and explosion of fruit and juniper that really steal the show. The gin is dry, clean and incredibly well balanced, it takes real skill to balance such dominant flavours. Bravo Tarquin, Bravo!
Xolato Gin
The Chocolate Lover's Choice - Xolato Chocolate Gin
Hailing from Belgium, arguably the home of chocolate, is this stunningly decadent and delicious Chocolate Gin! The distiller has sourced some of the finest Columbian cacao Beans, Piedmont hazelnuts, Avola almonds and vanilla pods to create this gin, the thought of which must surely have any chocolate lover salivating! It takes its name from the ancient Mayan word for chocolate and the gin itself exudes chocolate notes on the nose, with vanilla and a subtle nuttiness on the finish. The palate is rich with chocolate and vanilla, the texture is creamy like white chocolate, the nuts provide depth of flavour and the clever use of wild cherries provides acidity. Best served with 1724 tonic and garnished with cocoa nibs that are rather handily included with every bottle!
The Beginners Gin - Brokers London Dry
The Ginvolution may have started years ago, but its never too late to learn to love this quintessentially British drink. To that end, my choice for the gin beginner is Broker's classic London Dry Gin. Not only does every bottle come topped with a little bowler hat (just SO British), the gin itself is made to a classic recipe called London Dry. Juniper and citrus notes dominate the nose, the palate is clean and crisp with juniper being the driving force, nicely backed up with citrus and spice. This is a gin best served with a dry tonic, a wedge of lemon and heaps of ice, the perfect aperitif before Christmas lunch! I hope this gives you a few ideas for the perfect bottle this Christmas! Remember though, gin is for life, not just for Christmas... or breakfast... or both! Come and explore our range in any of our stores, or have a good browse online!