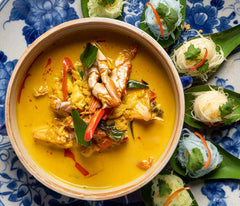 All too often we spend ages deliberating over what to have from that Just Eat or Deliveroo menu and give next to no consideration to what wine might go with it, opening up whatever's in the fridge or wine rack because "it'll do Marjorie, it's just a takeaway". With more of us staying in-in rather than going out-out this year, we think we can do better than "it'll do"! So we're here to arm you with some suggestions for some great wines that will lift your Thai takeout to a whole new level by complimenting the food rather than fighting with it!
Keng Deag (Red Thai Curry) with Somewhere Else Torrontes/Pedro Ximinez
This classic style of Thai red curry with a coconut milk base. The combination of spices and creamy character interacts really well with this Torrontes/Pedro Ximinez blend - enough acidity to cut through the creaminess but enough body weight and tropical fruit to pair with the spicy flavour of this curry.
Kong Kien Waan (Green Thai Curry) with Tapiz Torrontes
A classic green Thai curry is perfect with Torrontes, just by itself. The wine is spicy and hints at sweetness at first but is dry and savoury on the palate making it perfect with the spicy, creamy nature of a Thai green curry.
Pad Khing with The Dot "Pepper" Gruner Veltliner
This stir fry, which is a combination of garlic, soy bean paste, ginger, mushroom, pineapples, peppers and tomatoes needs a flavoursome wine to pair with and this Gruner Veltliner has the acidy, stone fruit character and spicy-white pepper notes to go perfectly with this stir fry dish.
Pad Krapow with The Wolftrap Red
This spicy stir fry has garlic, chillies, peppers, onions, green beans and basil in. It has a bit more body to it which makes it great with a spicy red wine. No need to go mad on the price so the spicy blend from Boekenhoutskloof's Wolftrap Red is just what's required.
Keng Masaman with Ribbonwood Sauvignon Blanc
A special Thai curry, with a base of coconut milk, potatoes, onion and peanuts. Sauvignon Blanc is often overlooked with spicy dishes, but it's a great wine to pair with - great acidity, nicely balanced fruit and a "zongy-zippy" mouthfeel to interact with the spices in the dish.
Pia Goong with Rag & Bone Riesling
A lovely spicy salad of grilled king prawns with chilli paste, lemongrass, lime leaves and mint. This needs a vivacious white wine and there aren't many more vivacious than the Rag & Bone Riesling with its lime peel character, racy acidity and "just drink me with something chilli-prawnish" character.
As always, if you need some advice on wines to go with specific dishes or something you're making yourself, just ask us in store or give us a call on 0151 342 7799 if you're shopping online. We're always happy to help! Until Next Time, Dr. Gray