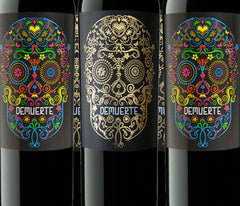 Our regular customers will know that we need little if any excuse to try new wines and pick a few new ones for our shelves in Heswall and Frodsham, or for selling here online for that matter. Is Autumn an excuse? Why yes, it is here... Here's Graham with a few top choices joining the Whitmore & White wine range this month from Spain and Austria!
---
Spain
From the Winery On Project combining a passion for art and wine, using modern techniques for the wine production. Ran by Palblo Cortez, an agronomy engineer and winemaker and Karel Eissner, a cosmopolitan architect. The resulting eight wines in their portfolio, two of which are under the Demuerte labelling, are contemporary classics
Demuerte Classic
From the Yecla region of Spain, this is a 50/50 blend of old vine Monastrell (Mourvedre) and Syrah, matured in French oak barrels. The result is a deep, concentrated wine with blackberry, vanilla and blueberry notes finishing with great balance and poise.
Demuerte Gold
A blend of Monastrell, Syrah and Tintorera, this has been aged in French oak for slightly longer than the classic and has taken on an even deeper, more complex style with notes of figs, prunes and liquorice to the black fruit compote. From the winemaking team at Finca Manzanos, the Gatito Loco pairing are sourced from organic vineyards and are made vegaon/vegetarian friendly. These are fun wines, with stand-out labels showing that they really are a pair of "Crazy Cats"
Gatito Loco Rioja Blanco
Made from 100% Tempranillo Blanco, this is fresh and vibrant and ever so fruity, showing notes of peach, and orange zest. A great aperitif wine, it will also pair nicely with fish courses.
Gatito Loco Rioja Tinto
From a blend of Tempranillo and Garnacha this Tinto Rioja is an absolute fruit bomb of a red. Notes of strawberry, raspberry and spicy redcurrant with soft tannins on the palate.
---
Austria
From the Weinviertel region around Vienna comes the .Dot winery. Keeping things simple in the vineyards and winery is what these guys do well. Their wines are outstanding for the price.
The Dot Peach Riesling
Like pushing a barrel of juicy orange blush peaches and limes along a wet sandy beach in the rain.
The Dot Pepper Gruner Veltliner
A rich and vibrant wine. All stainless steel production and very much like a bag of Granny Smith apples on the nose and palate.
The Dot Cherry Zweigelt
This is a little gem - vibrant red cherry fruit on the nose. The palate is richer than you'd first imagine and the finish is like warm cherry pie. Wunderbar und fantastisch!
---
That completes our mini wine tour of Spain and Austria today - there's enough here for you to get your chops around for this week at least! Shop in store in Heswall or Frodsham, or here online with discounts for 6s and 12s, and free delivery when you spend over £150! Until next time, Graham Simpson, Wine & Spirits Buyer