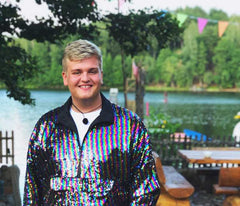 Jacques has been managing our shop in Frodsham for a couple of years now, and fresh from his starring role in ITV2's Killer Camp this Halloween, we asked him about his plans for Christmas. Needless to say the waxing lyrical went on for some time, but who are we to argue with a man who got blown to bits in the back of a hay trailer on national television?
What makes Christmas for you?
Half the fun of Christmas is the magical run-up, chimneys billowing smoke, candles flickering and fantastic festive television. However, when it comes to Christmas the true star of the show is food and drink! I know I say so myself, but Whitmore & White have got me covered on this front, floor to ceiling there's something delicious at every turn! Last year I wanted to show my family and friends how much they mean to me in the best way I know how - scandalous amounts of delicious treats and unruly quantities of wine! Whitmore & White was obviously my one stop shop for the perfect night.
What did you do last Christmas Eve?
It was a perfectly clear, crisp night. The sun had set, corks were popped and family were gathered. I went for my go-to Olive Wood Chopping board to set the scene for the perfect pre-Christmas platter. I began to set out Iberico Hand Carved Ham with its rich flavour and daringly succulent taste partnered of course with stupendous amounts of cheese from aromatic Truffle Pecorino to Colston Bassett Stilton with its copious, chunky blue veins. But it's not all food, wine and giggles in my house on Christmas Eve. It's also totally organic Olive Oil powered La Chinata facemasks! After clumsily applying each other's masks with a little liquid courage we moved onto our final and grandest conquest yet, Bride Valley English Sparkling Wine. Wow-wee! You can't match it to anything else out there, the perfect Christmas tipple!
Your last word on Christmas?
There's no way better to spread love and cheer than through food, drink & self-care, but I always think about how it truly isn't what's under the tree, but who's around it!