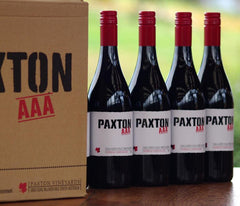 Paxton Vineyards hail from the McLaren Vale in South Australia and were established in 1979 by David Paxton and his wife. David is one of Australia's leading viticulturists and believes that working with the land is paramount to creating quality grapes. Their vineyards are very much at the forefront of organic and biodynamic viticulture where they have been certified as fully certified since 2011. David manages all of his vineyard sites using biodynamic practices; no synthetic pesticides or fertilisers and using natural composts to work back with the soils. He only uses a small amount of copper and sulphur on his red grape varieties as within the biodynamic and organic viticulture guidelines.
Since 2000 David and his team have been making wine under the Paxton label and his wines show the diversity of their vineyard sites and allow the fruit to express itself in the wines by minimalist intervention in the winery.
Their 2016 Paxton AAA Shiraz-Grenache blend is grown using grapes from fully certified organic vineyards in the McLaren Vale. The AAA is a homage to David's youth working in the wool industry and the wine is a blend of 60% Shiraz and 40% Grenache from small pockets of vines on their vineyard sites.
Bright purple in colour the nose shows notes of redcurrant, raspberry and violet with white pepper in the background. The palate is smooth with rounded tannins, violet and spicy cinnamon notes around a raspberry coulis mid-palate. The finish has a peppery edge. Drinking very nicely now, this wine will also benefit from 10 years ageing.
A little side note - David has links to the Wirral. Many years ago he became friends with a chap who hails from the Wirral and to this day, if David is ever in the UK, he tries his best to catch up with his old friend!