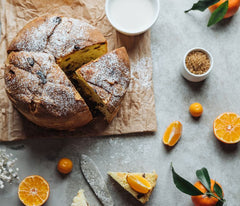 It's no secret the most anticipated moments during the festive season are food related. During the winter we hold tradition and heritage very close to our hearts whether it's midnight mass or demolishing a Chocolate Log in one sitting one thing is for certain, we love food here in the UK! But what do the Italians, world leaders in style, luxury and gastronomic delight, eat at Christmas?
Creating the perfect Christmas feast is no easy challenge, and if you're into creating unforgettable memories at Christmas then you will know that the devil is in the detail. So changing things up with some traditional Italian treats is great way to wow your guests and be the most stylish and sophisticated host this Christmas!
If you're having a festive catch-up with friends over a cup of Whitmore & White Coffee, then you must try some of our fabulous Chocolate Cantucini and our truly sublime Marabissi Ricciarelli this year. Ricciarelli are one of the most delicious things in the whole shop. Made using ground almonds, sugar, honey and egg-whites, you need to imagine yourself eating a marzipan cloud.
Whilst Cantucini are available all year in store, Ricciarelli are only ever with us at Christmas time and we only get limited amounts from Italy! Why would they let it leave? So if you fancy adding it to your Christmas foodie repertoire, you need to get a wiggle on!
Next up, cheese! Italian food is always a force to be reckoned with and their cheese is certainly no exception! A must have for any Christmas Day is a cheeseboard so why not shake it up with a hard and light truffle pecorino or a creamy, melt-in-your-mouth La Tur. La Tur is a soft-ripened cheese made from a blend of sheep's, cow's and goat's milk, produced by Caseficio dell'Alta Langa in the Alta Lange region of Italy. It is one of the most delicious things, gooey, sweet and creamy yet acidic and yeasty too. Perfect with some rosemary Lingue and a Slow Baked Dottato Fig for that perfect sumptuous simplicity that Italians always manage to pull off so effortlessly!
Finally, it simply wouldn't be an Italian Christmas blog post without Panettone and the baby version the Panettoncino, or its little cousin the Pandorino! Toast, butter and drool! These have grown in popularity over the past few years and it seems to have become as traditional here in the UK as it is in Italy - and rightly so! But again, move fast if you want some, we are only given limited stocks of these every year!
So there you have it, some truly delicious Italian Christmas choices that will drive a coach and horses or a flat-out Fiat 500 through your Christmas time! Don't forget you can order online for collection in store as well as delivery, and don't miss our Italian Christmas Hamper too, which is full of terrific Italian food and wine - the perfect way to say Buon Natale in true Italian style!
Until next time,
Jacques