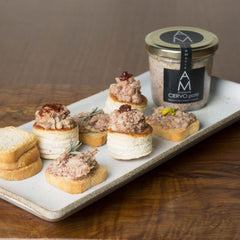 Pâté has been a Christmas favourite since I can remember, or any special occasion come to think of it. I vote it's time to change this convention and make it a staple for any day you fancy giving your palette a treat. Lavishly spreading this comfort-inducing cuisine onto crusty bread brings feelings of opulence that surely we deserve all year round.
We stock pâté from ArteMonte, a Spanish brand with a huge passion for creating products to showcase the natural beauty of bushmeat. They're based in Jaén, a gorgeous historical spot close to the Santa Cataline mountains on the border of Andalusia with Castilla-La Mancha. And yes, I'm still awaiting my invite to visit!
THE BEST RAW MATERIALS & TRADITIONAL PRODUCTION
The dedicated team at ArteMonte obtain their completely traceable meat from wild animals, raised in freedom on the mountains of Aldeaquemada and on a completely natural diet. The wholesome purity of the raw products guarantees the best taste and texture.
And we love that they continue to follow the traditional recipes and processes that they inherited from the generations before them. Why change perfection?
IT'S TIME TO ACTIVATE YOUR TASTE BUDS!
ArteMonte Partridge Pâté  The jewel of Jaén's traditional cuisine. A sophisticated soft texture filled with refined spices to enhance the partridge's flavour.
ArteMonte Venison Pâté  Venison is such a lean meat, high in flavour as well as nutritional value. Its incredibly smooth texture makes it very moreish.
ArteMonte Wild Boar Pâté  A smooth and creamy texture with an intense flavour of exquisite wild boar meat. It's tasty and aromatic, low in fat and rich in nutrients.
If you're missing the taste of Spain, let us deliver you some sunshine! All three of these organic beauties appear in our El Festín Spanish Hamper alongside oodles of other authentic Spanish products.
AND THEY'VE GOT HEALTH BENEFITS TOO!
Don't feel guilty when diving into a jar or two as due to ArteMonte's manufacturing process, the pâtés are crammed with vitamins and 100% free of chemical additives. All of the pâtés have a high level of vitamin A to help strengthen immune systems, protect our eyes, and keep our skin glowing. And they also have 5 of the vitamin Bs which helps control insomnia, stress, and migraines. Good to know!