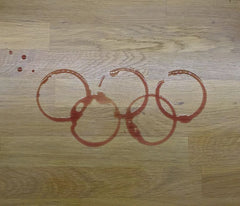 We know what you're all thinking when you walk into our shops. Not 'what an amazing array of yummy products', but 'how do the staff all look so fit, healthy and full of beans!' (ahem). We're not born with athletic genes, so how do we do it? Well, we'll let you into a secret; we eat and drink lots. Here's how you too can have a physique like us at W&W.

... to fit in with those 'trending' articles, we also need to say 'And number 3 will blow your mind!'

1. Red Wine. We drink this for the healthy antioxidants (and maybe other reasons!). The darker the better, if you can't see light through the wine, then you're on to a winner.

2. Gin. The main ingredient in gin is the super-fruit itself - juniper! Used for centuries as a topical antiseptic, the berries can also fight off coughs. If you've got painful joints, soak some raisins in gin and eat a few daily, if anything they taste good!

3. Olive Oil. We just don't know where to start with this oil, its benefits are numerous. It is reported to have anti-inflamatory properties, keeps hearts healthy, reduces blood pressure and more! You don't just consume the oil you can also slap it on your skin to help rid those fine lines.

4. Local Honey. A spoonful of local honey a day can supposedly help alleviate hay fever symptoms. Packed full of natural energy, the honey we sell is made by the busy bees from the grounds of Beeston Castle.

5. Coconut Oil. You'll be pushing other processed oils aside when you learn that this tropical oil is thought to boost the immune system, ease digestion and be good for your heart.

So, if watching the Olympics has made you think twice about what you eat and drink, take some exercise and walk down to your local Whitmore & White. Our food and wine experts are happy to talk you through the wine, spirits, food and natural cosmetics stacked on our shelves; all made with quality ingredients from the best producers.
A little bit of what you fancy does you good. Obviously, all in moderation ... sorry to be a party pooper!

Mandi