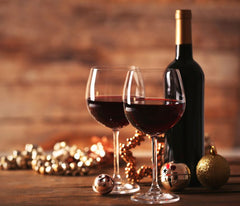 The nights are drawing in, Jack Frost has started to annoyingly nip at your nose and curtains are being closed earlier each day. This is the downside of the onset of winter and Christmas time. But, if you think positively, it's a great time to indulge in your guilty pleasures.
So, what guilty pleasures go hand in hand with this time of the year? Chocolates for breakfast, Champagne with lunch and a cheesy film to fall asleep in front of mid-afternoon. I find that if I say 'well ... it is Christmas', I can justify wearing a onesie all day and devour unrestrained amounts of food and drink. But be careful when you start this tactic, it may wear thin if you use it from 1 December.
'Why have you bought so much drink?'. I reply 'Just in case friends drop by.' Again, another excuse for filling up the cabinet with wine, rum, gin, vodka and whisky. Usually in the hope that no-one pops round asking for my favourite tipple; I keep my Toffee Vodka hidden at the back. By the way, Toffee Vodka is amazing drizzled over a chocolate button filled pancake, 'well ... it is Christmas!'
If you're wondering what my ultimate guilty pleasure is - it has to be skipping breakfast to watch Will Ferrell's phenomenal performance as Buddy the Elf, tucking into a box of festive Turkish Delight (not caring about all the powdery sugar falling on to my exuberant Christmas jumper) and a glass of something warming - yep, you've guessed it - Toffee Vodka.
But who says you should feel bad about these extravagances? Not us, that's for sure; we say scrap the guilt and celebrate all things that make you feel good. To coin a phrase - you're worth it.
Pop in and let us help you fulfil your Christmas food and drink guilty pleasures.
Mandi