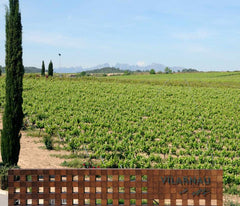 We're thrilled to tell you that our award-winning Cava producer and huge customer favourite
Vilarnau
has launched a pioneering organic, vegan, alcohol free fizz!
Vilarnau
is located in San Sadurní d'Anoia, close to Barcelona. We visited the vineyards a couple of years ago and were blown away by the location, their passion and their love for this most elegant of Spanish wine. They have now turned their expertise to sobriety with the launch of these two new zero alcohol sparkling wines.
A whole new world of Alcohol Free!
So before we start, you need to ditch all preconceptions and misconceptions about what an alcohol-free fizz is because
Vilarnau
has absolutely turned the tables! This incredible stuff has been de-alcoholised (yes, it's a word!) to 0%. So forget your sugary grape juices, fruit spritz and tall glasses of even taller disappointment, this is a whole new world of alcohol free! These new & innovative additions to the
Vilarnau
range are the first organic zero-alcohol sparkling wines to be developed by the winery. Using their wine making expertise Vilarnau have created a quality 0.0% ABV fizz with 70% fewer calories than regular cava, with only 50 calories a glass.
Vilarnau Alcohol Free
Vegan and Organic
Completely vegan, the new, strikingly packaged bubbles have been developed by winemaker Eva Plazas in response to the growing demand in international and domestic markets for lower alcohol wines. She commented, "It's taken us a while to perfect but we really believe that the new 0.0% Vilarnau fizz fits with the global trends towards mindfulness, balance and healthier lifestyle choices." She continued, "Creating this organic, alcohol- free sparkling isn't very different from making traditional wine. We select grapes, carefully choosing sites that beautifully express the characteristics of each grape variety. Following harvest, our winemakers craft each wine using traditional methods, achieving rich flavour, alluring texture and excellent balance."
You're not alone!
Research has shown that for those seeking a non-alcoholic drink it is important to have a glass of something that looks and feels like an adult drink.
Vilarnau's
two new sparkling wines allows those choosing not to drink alcohol feel part of every occasion, enjoying a glass or two of sparkling and participate in parties, get-togethers, nights out, events and celebrations. You can see the full range of
Vilarnau's Cava and Alcohol Free Wines
online and in store.