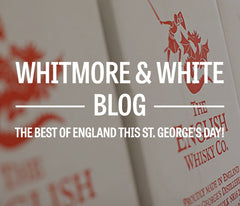 April 23rd is St George's Day. You know, St George - the Greek guy who shot the dragon with a laser gun? Amongst many other worldwide patronages, St George is the patron saint of England. You know England. It's the capital of London. So to celebrate this saint's patronage of England, we are going to share some cracking English fare with you. But where to start? Well, how about a bit of fizz? Always a good place to start I think. But English fizz I hear you ask? Really? Absolutely really! English fizz is hot on the heels of Champagne in the sparkling wine stakes. The south of England is a hotbed of vineyards, producing grapes for both still table wines and sparkling wines. But surely it's too cold in England to grow grapes? Well the answer to that is both yes and no. Yes, in the most part, even with warmer summers at the moment, the climate is still a little too cool to produce grapes of sufficient ripeness to make still table wines like those you'll find from warmer countries or from continental Europe. However, it does produce still wines with about 9-10% alcohol, low sugar and high natural acidity. These are the perfect "base wines" for sparkling wines. Take these wines, pop them in a "Champagne" shaped bottle, add some yeast and sugar solution and hey presto! Sparkling wine after 18 months. Okay, that's simplifying it a lot, but the premise is there. Low alcohol, low sugar and high acidity is the perfect starting point for sparkling wines. They've been doing it in Champagne for years. Now, here at Whitmore and White, we have two sparkling wines from England. They come from a lovely vineyard in Kent called Chapel Down. The white and rose are made in the traditional method used in Champagne and the same grapes they use in Champagne are used here too, namely Chardonnay and Pinot Noir. They are both delicious and in a blind tasting you would be hard pushed to tell the difference between them and Champagne. That's testimony enough in my books.
---
Chapel Down Brut NV £22.95
Crisp and dry but with a toasty, brioche nose and lemon-biscuity edge to the palate. Long, fine persistent mousse and lingering finish.
---
Chapel Down Rose NV £27.95
Lovely salmon-pink colour, Nose is redolent in strawberries and cream with a hint of raspberry coulis. The palate is dry with red berried fruit notes and a creamy edge.
---
Okay, so what if fizz isn't your thing. More of a beer person? We can help you there too. England has a looooooooong tradition of beer making. And here at Whitmore and White we have a range of styles to hopefully suit everyone. Take a look at these beauties€¦
---
Broadlands Norfolk Mead (75cl) £8.95
Yep, the ale of choice in Tudor times. Honey honey and some more honey. Great if you have a sweet tooth. Not so if you are a bee.
The Parker Brewery (Southport)
all £3.50 per 500ml bottle
A range of styles of English Ales - The Viking Blonde Beer, The Spartan Stout, The Barbarian Bitter and The Centurion Pale Ale.
Brimstage Brewery Beers (Wirral) all £3.50 per 500ml bottle
An incredibly popular local brewery, now available in bottle. Choose from the Trapper's Hat, the Sandpiper and the Scarecrow bitters.
Britman Brewery (Burton, Wirral) 3-bottle gift sets £11.95
We love these beers, made at the old Burton Manor. Les, the brewer loves his Germanic styles of beer and you can certainly see an influence in the three beers; The Golden Ale is sweet and malty. The Best Bitter is one of the best bitters I've tried and the London Porter is rich and sumptuous.
Chapel Down Curious Brew £1.95 per 330ml bottle
Yes, those chaps at Chapel Down also produce beer. This is a lager-beer and is crisp and dry and ever-so-refreshing. Perfect for a sunny evening.
---
Not a fizz or beer fan? Do you like Whisky? Did you know you can get English Whisky? No, I'm not kidding. Seriously. You can. The best distillery for whisky in England is the aptly named St George's Distillery in Norfolk. The company operating the distillery is The English Whisky Company Ltd and they have produced a range of whiskies under the "Chapter ..." moniker since production started in 2006 and the first release in 2009. Here at Whitmore and White, we like our whiskies with a bit of oomph, so have chosen the following English Whisky Company Ltd whiskies:
---
Chapter 9 (Peated) £40.95
We would say delicately peated - something like a young Bunnahabhain from Islay. Subtle notes of peat smoke and barley sugar with a heathery finish. A good starter for those looking to get into peaked whisky.
---
Chapter 11 (Heavily Peated) £40.95
This is much smokier than the Chapter 9. Deeper and richer with an all spice edge and malty sweetness.
---
So that's it. Enjoy St George's Day and pop in store as we'll certainly be celebrating! Graham