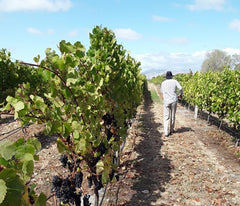 Those of you who shop with us in Frodsham will know Katy, but you may not know that as well as working at Whitmore & White, she and husband Dave also import an outstanding range of wine from New Zealand, all of which you will find on our shelves.
Katy was in New Zealand just before lockdown happened visiting one of our favourite wine producers Riverby Estate, and has been "stuck" there ever since! We asked Katy to write us a postcard blog from the vineyard, so without further ado, here comes the lady herself...
---
A Jaunty Day Sail
Just before New Zealand moved into a Level 4 total lockdown, I had decided to brave the Cook Strait and sail for the South Island. My sister and I hove too as foot passengers on the Bluebridge ferry. Cheeky Chard in hand we watched a pod of dolphins surf the waves. It was a glorious crossing, a late summer day absorbing the stunning sights of the Marlborough Sounds. Destination Picton.
Crossing the Cook Strait
---
Off to "Work"
It's a hard life being a wine importer, I often opine to myself. Especially being handed a glass of the freshly bottled 2019 Riverby Estate Pinot Noir at 10:30am by owner and chief puller of corks, and twister of screw-caps, one Kevin Courtney. Assured of its sheer brilliance, it was time for a tour.
Riverby Estate has been in the hands of the Matthew's family for over a century. Originally used for stock and crops, in later years it became apparent this was prime grape growing land. Where is it you cry? Why have I never heard of it? Their more famous neighbours are Cloudy Bay. Kevin and family live onsite, they are not open for public tastings but are open by appointment. The brand is proudly local and family owned. Only grapes from the vineyard grace the insides of a bottle of Riverby Estate.
That is how it has its single vineyard status on the label. In fact once there, Kevin may find many, many wines for you to try. His love for wine is infectious and his private cellar is stuffed full of vinous goodies from around the globe.
The place where STUFF is decided, aka the tea shed
Sandals turned out to be a very poor choice of footwear in a vineyard. By the end of the tour my feet were a dusty study in brown. Kevin had his trusty refractometer about his person and we were scoffing grapes and spraying pips like members of the Drones Club starting a bread roll fight in a PG Wodehouse Jeeves and Wooster novel.
We pondered over the Pinot Noir, and poked noses into all areas of the vineyard. There are so many grape varieties to choose from here Pinot Noir, Syrah, Sauvignon Blanc, Pinot Gris, Gruner Veltliner, Chardonnay, Riesling and a small plot of Semillon. There is more to Marlborough than Sav!
Riverby Estate Pinot Noir
2020 has been an extraordinary year so far. The wine industry in New Zealand is considered essential, thank goodness. The quality is excellent and the harvest is in. A visit to Kevin would usually see us planning his next trip over or planning tactics on getting more exposure for the brand. Mostly it left us reaching for another glass of the Sali's Block Riesling.
A perfect sharpener for the afternoon, whilst we wondered what would become of us? He returned me to Picton with his usual hospitality - a six box of wine. What a chap!
The last of the harvest
Since time of writing Katy has been assigned a flight out of New Zealand in early May and will return home to a two week quarantine. I can't imagine a flight I'd want to miss more, but we can't wait to have her back with us soon!