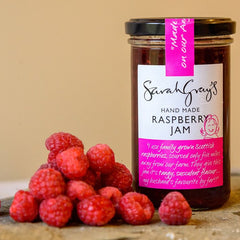 There are some foods that we associate with our childhood. Lemon curd sandwiches, jam stirred into a homemade rice pudding. And who didn't reach for the marmalade after watching Paddington Bear?
Sarah Gray from Angus has taken all our childhood breakfast favourites and amplified their delicious flavours. She's even given some a most adult theme, with the addition of mojito, champagne and prosecco.
TASTE, FAMILY VALUES, & ETHICS
Here at Whitmore & White we strive to bring you something different, but we're always attracted to family run businesses that use recipes which have been passed down from generation to generation and source the best ingredients. Sarah Gray's really ticks all the boxes. The family only have to travel 5 miles from their home for the juicy berries that go into their preserves, and they use Scottish free-range eggs to cut down on food miles.
Sarah together with her husband Sandy launched Sarah Gray's back in 2012. However, the story started back in 2001 when Sandy, aka The Jam Man, made jam using his grandmother's recipe to sell in his family's farm shop. The handmade range soon increased to match the demand from their customers as they introduced curds, marmalades, and chutneys too.
And back to the present, Sarah Gray's is getting quite the following and Sarah and Sandy's three children are now helping out too and have the enviable roles of preserve tasters and new-flavour hunters. What a job!
SIX BREAKFAST FAVOURITES
We chose these six to grace our shelves (available online too), all from the wonderful, 'Made By Me' range.
Sarah Gray's Orange Curd: Smooth and creamy, just the way we like it. Summer in a jar.
Sarah Gray's Mojito Marmalade: Limes, rum and mint. Like Mojito? You'll love this.
Sarah Gray's Lime Curd:  Freshly squeezed limes create this smooth and zingy breakfast pleaser.
Sarah Gray's Lemon Curd: The flagship product! It's smooth and rich - and addictive. You've been warned.
Sarah Gray's Strawberry & Champagne Jam: Jam and bubbles to deliver luxury to your table.
Sarah Gray's Raspberry & Prosecco Jam: Who ever said prosecco doesn't go with toast and crumpets was most definitely wrong? Simply delicious.