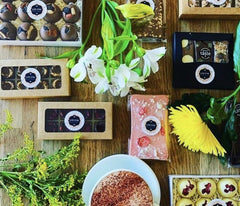 We're thrilled to say that we're now stockists of Little Lodge Confectionery here at Whitmore & White! Made locally to us in Mickle Trafford, Cheshire, Little Lodge was founded by Kim Lodge in 2016 after many years of baking and making sweet treats for friends and family. Having tried all of Kim's fantastic creations, we can tell you first hand that they're absolutely exceptional! As well as making beautifully presented boxes of chocolates, Kim also makes a range of artisan chocolate slabs, and the madly decadent "fully loaded" slabs which are packed full of all sorts of wonderful things. "I have always had an insatiable sweet tooth and love creating new, delicious products for my loved ones, customers and stockists," says Kim. And recognition for the Little Lodge creations are already starting to roll in. "This year we were thrilled to be awarded a Great Taste Award 2018 for our Honey and Ginger Slab!"
Little Lodge Confectionery
A full range of Little Lodge chocolate is now available in all of our shops! Kim also takes bespoke orders, so get in touch if you need wedding favours or chocolates for special events!