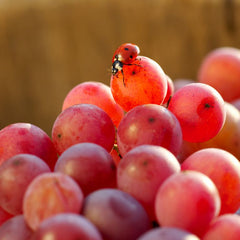 The #bio Organic Chianti and #bio Organic Grillo are the new kids on the block here at Whitmore & White. They've only been with us for a month and they're already proving to be a firm favourite! They hit the spot on so many levels.
You can tell from the label that the wine producer responsible for this cheery pair has respect for life in all of its forms as the simple ladybird design gives a most definite nod to the safeguarding of biodiversity. The wine producer in question is Gruppo Italiano Vini and they believe that the creation of these wines is 'an act of love for nature'.
WINE THAT PROMOTES A BRIGHTER FUTURE
Gruppo Italiano Vini has brought together the two worlds of biodiversity and viticulture. Viticulture is the term used for the cultivation and harvesting of grapes – Susie Dent has nothing on us! As Italy has the widest biodiversity in Europe, they're best placed to lead the way with sustainability and environmentally friendly agriculture.
WHAT THIS MEANS TO OUR TASTE BUDS
We've got to take our hats off to the viticulture experts. It's clear that they know what they're doing. These delightfully perky wines can certainly hold their own when it comes to charm, flavour and fruity appeal.
The bright red Chianti bursts with a heady aroma and gentle hints of raspberry, wild strawberry, violet and ripe grapes. After every sip you're left with a Morello cherry and almond finish.
Or, head for the golden yellow, light straw coloured Grillo with notes of melon and apple. Its distinct honeyed characteristic is complemented perfectly with a delicate crispness to guarantee a juicy and mouth-watering finish.