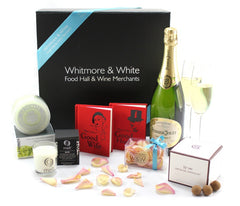 We're often asked here at Whitmore and White whether we do hampers - the answer of course is yes we do! Christmas is always a hugely busy time for hamper making, but we have a fantastic range available all year, plus you can also create your own hamper starting with one of our empty hampers or gift boxes and filling it with lovely things! We thought this month would be a good time to give you an overview of our hamper range, what with Christmas rapidly approaching and Christmas rapidly approaching. Did we mention Christmas rapidly approaching? So let's start with the elephant in the room: Christmas! We know it's still weeks away, but now is the time to start exploring our range and thinking about who wants what, whether you're shopping for fussy Aunt Glad or searching for lovely business gifts! You can pre-order our ready-made Christmas hampers from now right up to the week before Christmas day by simply calling in to either of our shops or ordering online, but for a more personal Christmas gift, why not create your own? Again, you can do this online, but it's a lot more fun in the shops and we're very good at helping you find things which go together nicely, or helping you to hit a specific budget for each gift. For the ultimate ease, we have put together a range of Christmas hampers which we think are a step ahead of anywhere else! Over the past few months (we started in August, believe it or not!) we have been tasting and testing a huge range of food and drink and have taken the traditional and given it a contemporary twist. So as well as hamper staples like local jam and coffee, we've looked to the continent to bring you things like our Spanish Christmas Hamper, which is full of delicious Spanish food and drink that will delight any foodie or wine lover!
The Whitmore & White New Arrival Hamper!
For the rest of the year, there's a hamper or gift box for every occasion. By far our most popular gift is our Honeymoon Wedding Hamper, which has been put together by us as the perfect antidote to a fleet of toasters! Champagne, chocolates, rose petals, olive oil bath salts and a scented candle make for a perfect evening after the big day, and for the happily ever after we also include two vintage books full of entirely outmoded but hilarious advice about how to be a good husband or wife! We also do a lovely range of food and drink hampers, including our Great British Gin Hamper, perfect for birthdays or, let's face it, any celebration! There's our New Home Hamper, with some lovely treats to help settle after the move and a New Baby Hamper with some lovely celebratory goodies for the new parents alongside some beautiful gifts for the baby. So there we have it - you'll never have trouble finding a gift again! Have a look in both the Hamper section and the Gift section to see our full range. You can order online or ask for any of the collections in store. Until then, Happy Gifting!