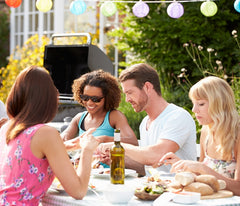 So as it's the height of the "summer" (ahem€¦) we thought we'd highlight a few fantastic wines that go really well with an array of BBQ food. With August rapidly escaping us, the sun has
surely
got to come out eventually... right?
Bride Valley - English Sparkling Wine
Fizz is always a good place to start off a BBQ. And as it's an English summer, where better to start than with an English sparkling wine? Like for like they represent much better value for money than many Champagnes out there. I think Bride Valley Classic Reserve 2011 (£29.95) fits the bill perfectly. This is a toasty, delicious and complex sparkling wine, from an estate owned by Decanter Magazine's Steven Spurrier and his wife Bella. A great way to whet the appetite. Most BBQs begin with chicken and vegetable kebabs and jumbo king prawns if available. There are two perfect wines to go with these - for the chicken I would choose Rob Dolan Chardonnay from Australia (£14.95).
Eins Swei Dry Riesling
I know there are still a lot of "anti-Chardonnay" wine drinkers out there, but that's mostly because of over-use of oak back in the 1990s. This Chardonnay is much more fruit driven, with a touch of barrel fermentation to lend body to the wine. This makes it perfect with chicken, especially barbecued chicken. For the king prawns the perfect partner is a German Riesling. Again, like Chardonnay, many people dismiss German wines as sweet, Liebfraumilch-y non-entities, but most are far from it. Take Joseph Leitz's Eins Zwei Dry Riesling (£12.95). This is a bone dry, crisp and refreshing wine with zesty lime notes that just work so well with seafood. Okay, so now we move into the red meat territory. Nothing says BBQ more than piles of burgers, sausages and steaks. And for these bad boys we need big, bold red wines. Wines that grab you by the lapels and say, "DRINK ME NOW!!!" So, here are a couple of barnstormers.
Boom Boom Syrah
Firstly, we'll go to Chile and the sublime Casa Silva Reserva Cabernet Sauvignon (£10.50). This is all blackcurrant and liquorice with firm tannins which smooth out when drunk with red meat. Great with a big cheeseburger. Secondly, we will go to the good ole US of A and to Washington State in the very north-west of the country. Here the vineyards sweep majestically across the plains like roaming buffalo and the wines are rich and smooth. This particular wine, by ex-rock band promoter Charles Smith is the Boom Boom Syrah (£16.95) and is absolutely bang-on (get it?) with BBQ foods. Big and bold with chunky blackberry and black pepper notes. Perfect with a huge piece of char-grilled steak. So there you have it. Five fantastic wines to go with your BBQ. Let's just hope the rain keeps off. Until next time, eat, drink and be merry. Graham Simpson Wine Buyer, Whitmore & White Don't forget, all our wines are available to buy online and can be incorporated into fantastic hampers in our create your own hamper section!