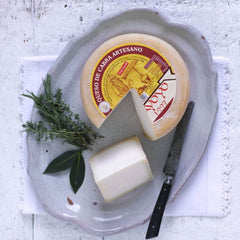 Payoyo cheese, or if you want to throw yourself completely into its Spanish heritage, you can call it queso de cabra payoyo, is made from the pasteurised milk of the indigenous Payoyo goats. This rare and ancient breed of goat graze in the Sierra de Grazalema mountains in the Villaluenga del Rosario province of Cádiz in Andalusia. Sounds idyllic doesn't it?
COMPLEX AND DARE WE SAY IT, A TAD CRYPTIC!
Grazing on grasses and herbs in this perfect hillside setting results in a cheese that is complex, nutty and extremely moreish.  Payoyo is milky white in colour, creamy in texture and pleases the palate with a fresh floral taste and notes of sage. And we're slightly in love with its buttery cheesecake smell too.
A professional cheese taster (what a job) mentions hints of white chocolate too.
See, we told you it was complex!
IT DESERVES THE RED CARPET TREATMENT
This semi hard goat's cheese was named Spain's Best Cheese by the Ministry or Agriculture in 2013, won bronze in the World's Best Cheese Awards in 2013 and was awarded with 3 stars in the Great Taste Awards in 2018.
THE PERFECT PAIRINGS
Grab yourself some crusty bread and a bottle of something tasty! Here are our top three wine recommendations:
Te Quiero Organic Field Blend Red A fruity, lively, and very drinkable red Spanish wine.
Te Quiero Organic Field Blend White A flavoursome, vibrant white Spanish wine.
Gonzalez Byass Vina AB Amontillado Seco A bone-dry sherry with delicate almond and hazelnut flavours. This beauty is also from the province of Cádiz, so it really is the perfect partner.